It's called Shark Valley, and though there aren't any sharks because it's in the Everglades, there are aligators, birds, snakes, crows, and other Florida typical animals.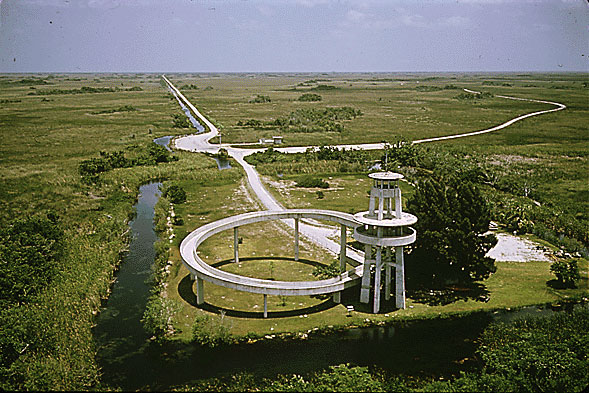 http://www.sharkvalleytramtours.com/
This is a 14 miles bike loop that offers a nice smooth ride with a view of many aligators and other animals. If you aren't into physical activity there is a tram you can ride out on. The halfway point is a watch tower type structure where you can look out at the large expanse of flat Florida and get some nice pictures too :). There are bathrooms too, you just have to make it to them.
It is a very pleasant ride and many people go with older individuals and even children. This is a GREAT activity to do with friends or on a daytime date to get to know someone. With 2 hours of riding you can talk quite a bit. I've done this ride with groups a few times and it's always great to bring lots to drink (because of the heat and exertion) and a sack lunch to eat at the halfway point. Sunscreen is a good idea too.
The bikes they rent are about $15 and they are not that great so I like to bring my own bike, and there is a $5 per person entrance fee so you save more money by bringing your own bike anyways. It is a neat place to go and definitely a good tourist activity as well as a fun thing to do with friends and family. The drive is not too bad to get there, and you can't miss the turn.
This is one type of thing I think everyone should do at one point or another. If you don't happen to live in South Florida, so on a bike ride somewhere closer to you. Find a nice park, a trail, somewhere with great scenery where you can spend some time around or in nature and relax, as well as get a little exercise.